Hi there! I'm Katelyn, and I'm so happy you've stopped by!
I'm a web developer by day, and a newbie travel blogger by night. My excitement for travel kicked off in 2014 when I took my first trip to Europe. My husband John and I spent two fabulous weeks exploring Austria and Italy. Ever since, I've been fascinated with this amazing world we live in. I've spent countless hours researching potential trips and flipping through travel guides. There is a whole world to see out there!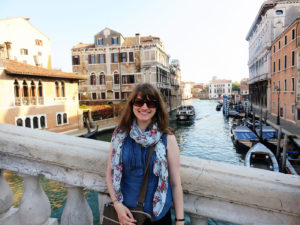 As much as I love travel, I haven't been able to do as much of it as I'd like. Due to our jobs and limited vacation time, it's not so easy to fit in the big trips we'd like to go on. My family doesn't live nearby, so a good chunk of our time off from work goes to visiting them, which is very important to me … I love seeing my family! I just wish there was more time to do both.
While I find the work I do enjoyable enough, I'm not sure I'd say it's what lights me up. I'm not so interested in the latest iPhone or operating system, but if someone starts talking about their latest travel adventure, I'm all ears.
I've come to the realization that I need to make a change that will open up more freedom and flexibility in my life, but I'm still exploring what that looks like for me. I just know that I want to pursue a life that I find meaningful and that I love living every day.
So, I'm going to start following my interests more. I love learning about the world and new places. I also love design and photography and art. And I want to have a positive impact in a world that isn't always so positive. I don't have it all figured out yet, but I'm putting the pieces together as I go.
Meanwhile, I'll be working on this blog as a side project. I'll share information about my travels and the places I've been researching. Eventually, I'd love to share some of the art I've been working on as well.
I'm really excited to embark on this journey, and I welcome you to follow along with me!
♥ Katelyn