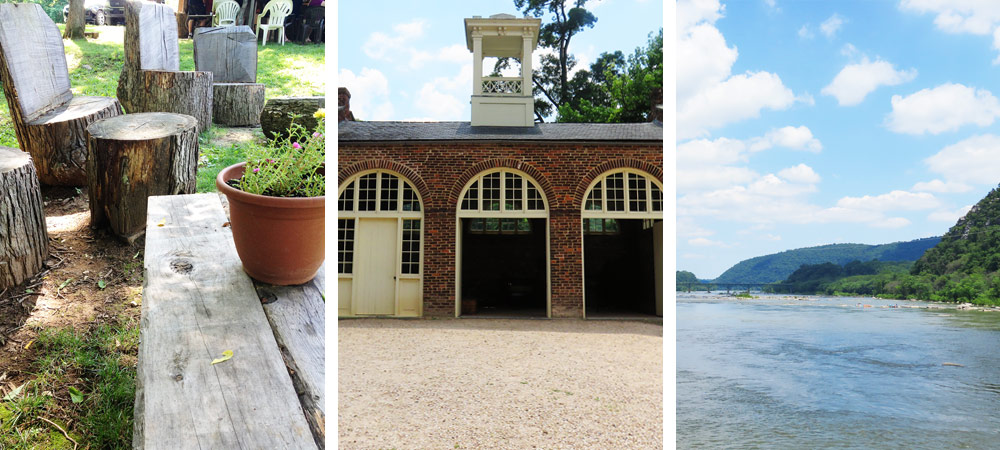 This summer, John and I took a weekend trip to the eastern panhandle of West Virginia, specifically to the towns of Harpers Ferry and Shepherdstown. I honestly didn't know much about this area before planning our trip, other than "Harpers Ferry" seemed to ring a bell from an American History class taken long ago.
I rediscovered Harpers Ferry while browsing through Moon's Road Trip USA (a gift from John to inspire our future cross-country road trip!) and thought it seemed like a great area to escape to for a couple of days. We were looking for a place that offered a range of things to see and do, but that was still relatively relaxing and manageable for a weekend. We also wanted to stay within a few hours drive from home. Harpers Ferry fit the bill!
Harpers Ferry is part of a national historic park and sits right at the point where the Shenandoah and Potomac Rivers join together (and also where the borders of West Virginia, Maryland, and Virginia all meet). The town of Harpers Ferry has many well-preserved buildings to visit that offer a glimpse into life during the nineteenth century. The park also offers a bunch of hiking trails to explore, and the Appalachian Trail runs through Harpers Ferry as well. (Check out this page for a Harpers Ferry hiking trails map and this page for a description of the trail routes.)
We drove down to the region on a Friday evening and left early Sunday afternoon, so it really was a short trip for us. We easily could have spent one or two more days there. Saturday was our one whole day there, and we filled it with a variety of activities, which included:
A hike in Harpers Ferry
Exploring the buildings in Harpers Ferry town
Visiting Bloomery Plantation Distillery in Charlestown, WV
Checking out Street Fest in Shepherdstown, WV
We got an early start to our day Saturday, arriving in Harpers Ferry around 9:30 in the morning. When we first arrived, Harpers Ferry felt like a ghost town as we walked through the quiet historic streets, but it got much busier as the day went on.
First we took the stone steps on High Street up to the trail that leads to Jefferson Rock. Jefferson Rock offers fantastic views of the town and rivers down below, just as it did in 1783 when Thomas Jefferson stood there admiring the scenery himself. While it's not a far walk to the rock, it is definitely up, up, up, and left us a little breathless, but it was well worth it for the views.
From Jefferson Rock, we continued our hike upward to the old Harper Cemetery and to the former Storer College campus (which first began as a school for freed enslaved people in 1865). Then, we connected to the Appalachian Trail and hiked it for a small stretch before veering off onto the Cliff Trail. Our original plan was to follow the Cliff Trail down to Virginius Island and then back into town, completing a 3-mile loop. Well, the Cliff Trail ended up being a little too much cliff and not enough trail for this height-phobic hiker. As we started down the narrow, steep, slightly overgrown path carved into the cliff's edge, I started having visions of myself taking a wrong step and tumbling all the way down. That was enough for me! We turned around and traced our steps back into town.
Once back in town, we walked around and checked out many of the old buildings. My favorites were the Dry Goods Store and Harper House (a home that was divided into a few apartments). It's so interesting to step back in time and get a glimpse of how people used to live. (The National Park Service has a description of all the Harpers Ferry buildings here.)
After our time in Harpers Ferry, we drove 15 minutes to the Bloomery Plantation Distillery in Charlestown. This was a fun little place to visit. The distillery produces moonshine liquors (which they call "SweetShine") and offers free tastings of all their flavors. A "funtender" leads the tastings and really does make it a fun experience. They offer a great selection of flavors — from Limoncello (my favorite!) to Chocolate Raspberry, Black Walnut, Peach, Cranberry Clementine, and more.
We wrapped up our day with a stop in Shepherdstown for the annual Street Fest, where we enjoyed some great live music and perused the various vendor tents.
We had a fun time visiting the area! If we had more time to spend there, we also would have:
Taken a ghost tour in Harpers Ferry
Gone white water rafting or tubing
Visited Antietam Battlefield in Sharpsburg, MD. It's only 10 minutes from Shepherdstown and 30 minutes from Harpers Ferry.
Harpers Ferry and the surrounding region would be a great getaway destination for you if:
You live in the Mid-Atlantic region or are visiting Washington, D.C. The northeastern panhandle of West Virginia is a relatively short drive from a number of cities — only 1 ½ hours from Washington, D.C., 3 hours from both Philadelphia and Richmond, and 3 ½ hours from Pittsburgh.
You enjoy hiking and other outdoor activities — like white water rafting, tubing, kayaking, and zip-lining.
You have an interest in American history, especially Civil War history.
Additional tips for visiting Harpers Ferry:
The town of Harpers Ferry has very limited parking, but there is a large parking lot at the nearby visitor's center where you can park for $10. Free shuttles run between the visitor's center and the town. There is also a 1½ mile trail that you can take between the visitor's center parking lot and the town.
Harpers Ferry gets much busier as the day goes on. Hike up to Jefferson Rock early in the day to beat the crowds and the heat.
There is a brief film about Harpers Ferry that runs every half hour or so. The film plays in one of the first buildings you come to when you get off the shuttle. This is a great way to get an overview of the town's history. We didn't come across the film until the end of our visit, but it would be a great way to start!
Accommodation notes:
We stayed at the Bavarian Inn in Shepherdstown for one night of our trip and really enjoyed our stay there. The highlight for us was their beautiful infinity pool, which overlooks the Potomac River. The hotel is just an easy 5-minute drive from downtown Shepherdstown and about 20 minutes from Harpers Ferry.
Save this post for later! Pin the image below: