The last full day of our Southern Caribbean cruise was spent on the island of St. Thomas, with the ship docking in the city of Charlotte Amalie. St. Thomas is one of the three U.S. Virgin Islands (along with St. John and St. Croix) and is a very popular tourist destination. Multiple cruise ships are typically in port on any given day.
With the multitude of tourists present in St. Thomas, it can be hard to find a quiet slice of paradise to enjoy. However, we spent our morning at the gorgeous Lindquist Beach (also known as Smith Bay Park), and I was both surprised and happy to find only about 15 other people there with us. It was not crowded at all, and I instantly fell in love with the spectacular beauty of Lindquist. From the expanse of white sand to the many shades of calm, turquoise water, this was the quintessential Caribbean beach I had been waiting for!
Aside from the beach's abundant beauty, the water was the perfect temperature for swimming. We snorkeled a bit and glimpsed some pretty small silver fish shimmering in the water's fractured sunlight, but beyond that, all we could see was the smooth sandy bottom of the ocean floor.
The rest of our time at the beach was spent simply relaxing and unwinding in the shade, reflecting on the previous days of our trip and trying to hold onto it for just a little longer. The view from this beach is something I could never get tired of gazing at. Beyond the multihued, glistening bay are other nearby islands jutting out of the water, creating so many different focal points.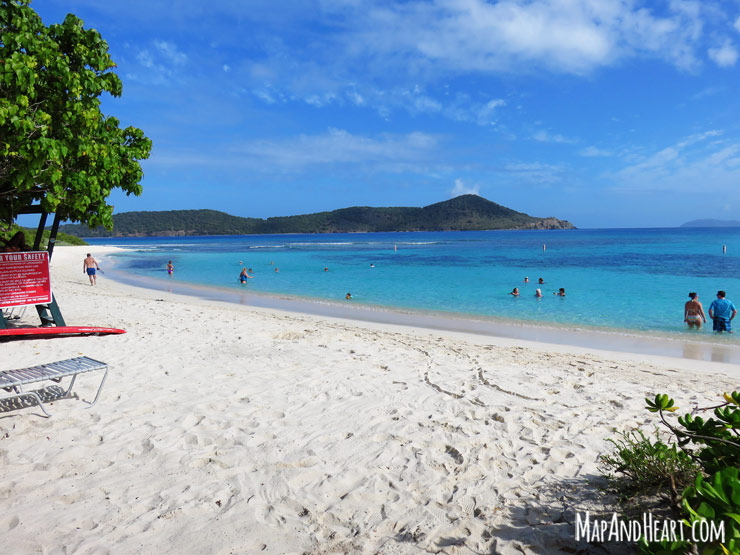 Those few hours at Lindquist Beach were the best way to spend the last day after our fun, yet tiring, week of cruising.
On our way back to the ship, we made a quick stop at the Skyline Drive Overlook — what beautiful views of Charlotte Amalie and the sea!
I had been hoping to explore the town of Charlotte Amalie in the afternoon after our morning at Lindquist Beach, but it didn't happen. I was tired and hot, and the town wasn't within walking distance of the port our ship was docked at. Next time! This is what I am learning about traveling — it is easy to plan all of the things you'd like to do when you visit a place, but sometimes, your body has had enough and just needs a nap — and that's ok! A trip is best enjoyed when it's not too rushed and you are well-rested.
St. Thomas was a great way to end our weeklong Southern Caribbean cruise. This was my first cruise experience, and while I wasn't sure what to expect going into it, I would definitely cruise again. I found that cruising offers a lot of convenience and flexibility — you can make of it whatever you choose!
This was Day 7 of our cruise. Read about Day 1 of our Southern Caribbean cruise here.
Save this post for later! Pin the image below: