A resident of Isla Mujeres told me that one of the things he loves about the island is that everyone is happy. And it's a good point — with the warm sun and the beautiful blue Caribbean views in every direction, it's hard not to be in a good mood. On top of the sunshine and scenery, the island also has an unquestionably relaxed vibe, full of visitors lounging by the beach and riding around in golf carts.
John and I kicked off our Mexico trip with two days in Isla Mujeres, and honestly, they might have been my favorite two days of our whole vacation. (Check out our complete 10-Day Riviera Maya itinerary here.) Our time spent on the island slipped into a leisurely, relaxed cadence and was filled with turquoise seas and good food. We also had fun getting to know some fellow travelers at our hotel, which made our experience even more enjoyable. It was bittersweet to leave for Playa Del Carmen (our next destination) once our two days in Isla Mujeres were up!
ARRIVING
Isla Mujeres is an easy 20-minute ferry ride from Puerto Juarez, just north of Cancun.
We prearranged transportation (through Happy Shuttle) from the airport to the ferry terminal. During the 25-minute drive from the airport, we chatted with our driver about sports in Mexico, learning that soccer, baseball, and boxing are some of the popular sports Mexicans follow.
Once at Puerto Juarez, we purchased our ferry tickets and waited in line for the next ferry. Ferries depart every 30 minutes during the day, so the wait is never too long.
During the ferry ride to Isla Mujeres, we sat on the ferry's top deck to enjoy the sun and the ocean views. As we traveled across the small stretch of sea to the island, we chatted with other vacationers and listened to a guitarist playing classics on his electric guitar.
Once docked in Isla Mujeres, we were able to walk right over to our hotel, which was only about a five-minute walk from the ferry terminal. Taxis are also readily available if needed.
THINGS TO DO
There are no major sights to see in Isla Mujeres, though visits to Punta Sur and Playa Norte are definitely recommended. Pretty much everything to do on the island involves simply soaking in the natural beauty, relaxing, eating good meals, and having a good time!
Playa Norte
Playa Norte is the most popular beach in Isla Mujeres, with its stunning stretch of white sand and turquoise water. Soak in the sun (or lounge in the shade); swim in the calm, shallow water; sip a fun, colorful drink from one of the many establishments near the beach; or get a beach-side massage.
We especially enjoyed the smaller section of beach at the very north end of Playa Norte, near the MIA Reef hotel. The water is very shallow here, and there is supposed to be some decent snorkeling near the bridge that crosses the water to the MIA Reef hotel. I saw some stingrays and pretty silver fish in the shallow water, but didn't make it all the way over to the bridge, where the water is deeper and darker.
Palm trees line the narrow stretch of sand to the east of the bridge, which makes it easy to find a patch of shade in the afternoon. We just laid our towels out in the shaded sand, but a little further west are restaurants and beach clubs renting chairs and umbrellas.
Miguel Hildalgo
When you need a break from the beach and the sun, take a walk up the main pedestrian street, Miguel Hildalgo. It's a great place to wander, shop, and grab an inexpensive meal.
Golf Cart Rental
A lot of visitors to Isla Mujeres get around by golf cart. This is a fun and relatively easy way to see other parts of the island independently. Several companies offer rentals for full or half days. Our hotel helped us arrange our rental the day we needed it, though it's not a bad idea to pre-book because the rentals can sell out.
A note of warning that it is a little hectic driving the golf cart through the downtown area when you first pick it up (and later drop it off), but it's much more relaxed around the rest of the island where there's more space. We found taxi drivers and motorcycle drivers on the island to be pretty respectful of the golf carts, allowing enough space when passing us. I was a little nervous about this beforehand, but it ended up being just fine. We really liked having independence to get around the island on our own terms and in our own time.
Punta Sur
Punta Sur, the south point of the island, is spectacular! It took my breath away when I caught my first glimpse. If you are staying at the north end of the island, it takes a little effort to reach but is definitely worth the taxi ride or golf cart rental to get there.
At Punta Sur, the views of the sea and the rocky cliffs are the highlight, in my opinion. But there is also a sculpture garden, as well as a pile of rubble at the end where a Mayan structure used to stand. A walkway runs down along the water, which is really peaceful and wasn't very busy when we were there. I loved observing some of the cool patterns the water has eroded into the rocky cliffs over time.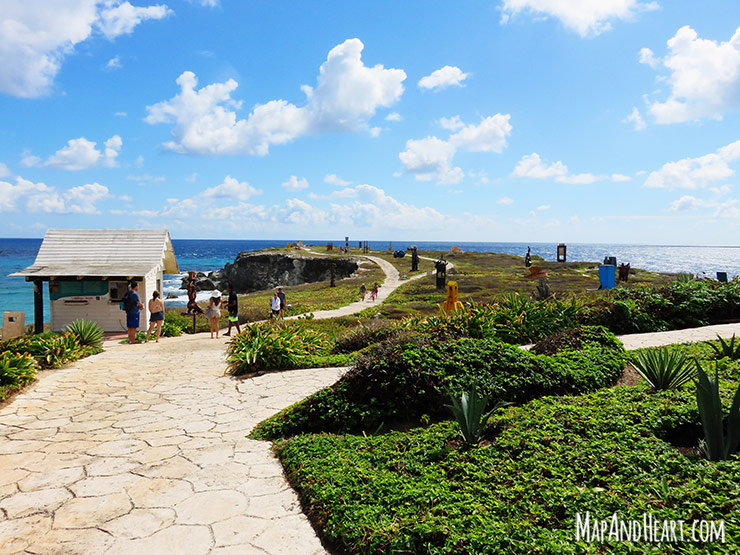 Tortugranja (Turtle Farm)
The Tortugranja is a small sanctuary for turtles and other marine life. It's a great place to go with children or on a rainy day. Inside is a small aquarium-like room with plenty of little turtles, but also other sea creatures, such as lobsters, seahorses, octopus, urchins, colorful fish, etc. The larger turtles reside outside in a fenced-off area of the sea, and you can walk out along a dock to see them. An area of sand outside the main building keeps turtle eggs protected until they are ready to hatch.
For 20 pesos (about $1 USD) you can buy turtle food pellets to feed the turtles inside, though we did notice that the pens seemed to be oversaturated with pellets when we were there, and most of the turtles just weren't that interested. I guess that's what happens when people try to feed them all day! I wouldn't recommend spending the extra money on the turtle food.
In the parking lot, a vendor sold fresh coconuts that he would crack open and place a straw into for drinking. This was my first time having fresh coconut water straight from the coconut — what a delicious treat!
Beach Clubs
Isla Mujeres has a number of beach clubs offering food, drinks, chairs, umbrellas, and bathroom facilities while you enjoy the sand and sea.
We stopped at Zama Beach Club for lunch, which is just down the road from the Tortugranja. Zama has a lovely atmosphere right along the water and also has a beautiful pool. Our food was good here too. We had the watermelon guacamole, Yucatan lime soup, and chicken skewers (so tender — yum!).
PLACES TO EAT
Loads of restaurants line lively Miguel Hidalgo, the main pedestrian street running through downtown. Many of the restaurants have an indoor/outdoor environment, with some seating outside along the street. We enjoyed sitting at the outdoor tables, observing all of the activity and soaking in the energy. Below is a list of restaurants we enjoyed during our two days in Isla Mujeres.
The Rooster Cafe
I'm a little embarrassed to admit that our first meal in Mexico was actually at this cafe serving American-style food rather than any local fare, but it was so delicious that I don't feel too bad about it! John ordered the Turkey Breast Sandwich, which was dressed up with mango chutney and garlic aioli. It sounds simple, but this was NOT just any old turkey sandwich. It was SO GOOD! I was a little jealous, because while I liked what I ordered (the Turkey Waffle Sandwich), his sandwich was my favorite!
Rooster Cafe is the only restaurant we ended up returning to twice. On the day we left Isla Mujeres, we stopped here for breakfast before catching the ferry back to Puerto Juarez. Be warned that it's a busy place at breakfast time!
Lola Valentino
Our lovely dinner at Lola Valentino consisted of margaritas and fish tacos. The restaurant features tons of margarita flavors to choose from, such as Watermelon-Jalapeno, Ginger-Pineapple, and Hibiscus-Rosemary. Sitting in the restaurant's outdoor space along the energetic Miguel Hildalgo street is just perfect.
Qubano
This casual Cuban restaurant along Miguel Hildalgo has amazing sliders! I would highly recommend the Mini Cuatro Sampler, which comes with four different types of sliders: a Cuban slider, a Pulled Pork slider, a Tostones slider (chicken and carmelized onion between sliced plantains instead of bread), and an Elena Russ slider (filled with chicken, cheese, cream cheese, and strawberry jam — my absolute favorite!). I would totally come back here and order the exact same thing. John ordered a pork dish, which was yummy too, but the sliders were definitely the best!
Bally Hoo
Unfortunately, we didn't get to actually eat here, but we spoke to several travelers who frequent Isla Mujeres regularly, and they all highly recommended this restaurant. Some favorite dishes are fish & chips, lobster, and ceviche. Margaritas too of course! Bally Hoo is located right along the water with beautiful seaside views.
WHERE WE STAYED
For our two nights in Isla Mujeres, we stayed at Casa Sirena, a small bed & breakfast with about seven or so rooms, located in the north end of the island. The hotel's focus is on hospitality and creating a wonderful experience for its guests.
The hotel hosts an evening rooftop happy hour (called the "sunset for the fun set"). We had a blast meeting other guests, and the happy hours were one of the highlights of our visit.
For a short two-day trip to Isla Mujeres, staying at a hotel on the north side of the island makes a lot of sense. This area is very walkable with plenty of restaurants and shops, the ferry dock, and the gorgeous Playa Norte beach.
Isla Mujeres is a beautiful island — relaxed, friendly, and simply lovely. If you are traveling to the Cancun area, it's definitely worth the time to check it out.
Have you visited Isla Mujeres? What were your favorite things to do and places to eat? I'd love to hear from you!
Save this post for later! Pin the image below: