Prior to our one-week Caribbean cruise last February, we spent two days in San Juan,  Puerto Rico (well technically an evening, then a full day, then a morning) and had a fantastic visit there!
Our entire time in San Juan was spent in the historic section, referred to as "Old San Juan". This area was incredibly charming, with narrow cobblestone streets, brightly painted buildings, and breathtaking views of the sea. Old San Juan is very walkable — we had no problem walking from place to place or finding our way around. It is a place where old meets new. The colonial architecture and historic forts contrast the cruise ships and views of the modern, high-rise skyline.
The friendliness of the locals also stood out to me in Old San Juan. People seemed relaxed, happy, and willing to be helpful. When we first arrived, we had a bit of trouble finding the apartment we were staying in, and a few different people noticed us looking lost with our luggage in tow. They all offered to point us in the right direction, which was greatly appreciated!
One unexpected surprise in San Juan was all of the cats! Cats are everywhere! Especially on top of cars and wandering along the walkway that hugs the water (Paseo del Morro). The cats are kind of like pets of the city. They seem well cared for (not your typical strays), and you get the sense that their presence is a source of local pride. Throughout the city, you will notice food dishes set out for them, and there are clusters of plastic bins in a few locations where colonies of cats live. It was fascinating!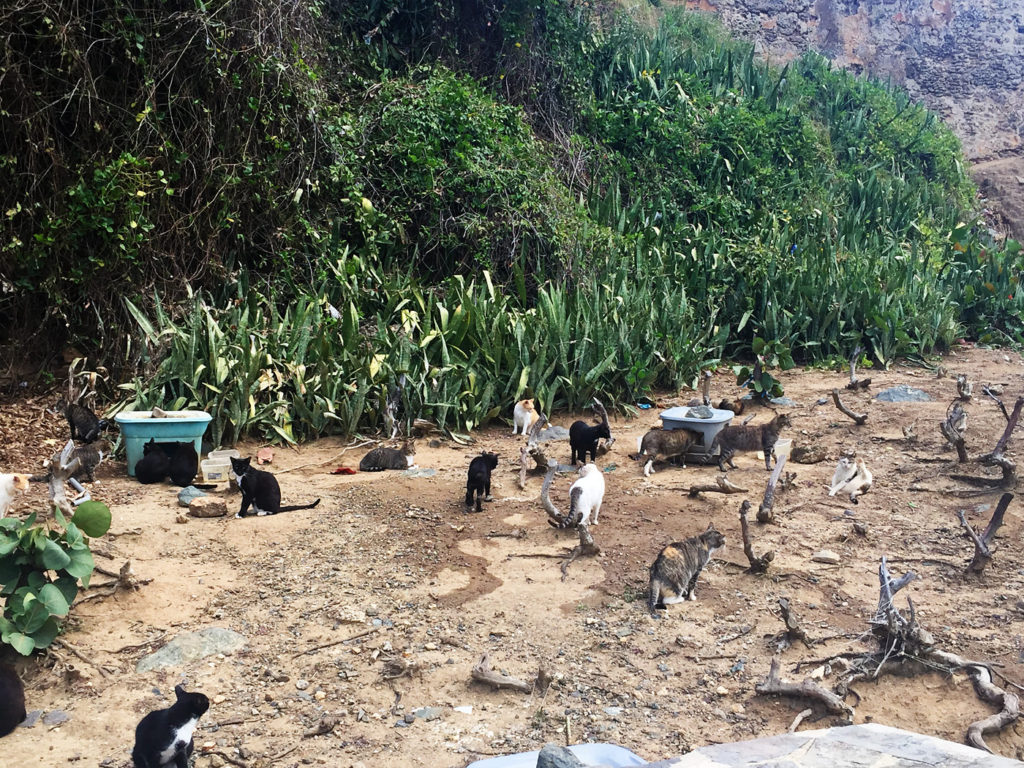 Our time in Old San Juan was limited, but we thoroughly enjoyed the time we had. We spent it visiting the two forts (El Morro and San Cristobal), eating some great meals, and just walking around exploring. Here were some of the highlights.
SIGHTS
El Morro Fort
The El Morro fort is my favorite place that we visited in San Juan. It's a huge old complex that was built along a cliff at the edge of the sea. Construction on the fort began in the 1500s by the Spanish, and it continued to get updates and add-ons over the years. The fort is open for you to wander around and explore on your own. There are rooms to walk through, nooks and crannies to discover, and fantastic ocean views to take in. The fort has six levels, and I think we only made it to three of them! That is how big it is!
San Cristobal Fort
The San Cristobal fort is about a 10-minute walk from El Morro, at the opposite end of Old San Juan. Admission to one fort also gets you admission to the other. San Cristobal is another really cool complex. It's newer than El Morro (and by newer, I mean 1600s instead of 1500s). The highlights of San Cristobal are the views it offers of San Juan — from one direction you can look out and see the modern city center and from the other direction you can look out over the buildings of Old San Juan and the El Morro fort. San Cristobal seemed less crowded than El Morro, but I don't know whether that's always the case or if it was just timing (we visited El Morro in the morning and San Cristobal in the afternoon). It's tough to decide which of the two forts I liked better, but El Morro wins by a bit for me. If you only have time to visit one, I'd recommend El Morro.
Paseo de la Princesa, Paseo del Morro, and San Juan Gate
We walked these pathways two times while we were in San Juan and really enjoyed the leisurely stroll and beautiful scenery. The Paseo de la Princesa is a wide, tree-lined promenade that ends with the La Raíces fountain at the water's edge. From there, you can continue onto Paseo del Morro, a scenic path that runs along the old city walls and the shoreline. The Paseo del Morro ends at the bottom of El Morro fort (though it's a dead end down by the fort, so if you get that far, you'll have to turn around). About half way along the Paseo del Morro is the San Juan Gate, one of the original access points into the city. There is a really cool tree with dangling vines near the gate that's fun to check out.  We also spotted many animals along the walkways. Aside from the cats, there were pelicans and iguanas (including two iguanas mating, ha!).
FOOD
I really enjoyed the foods and flavors of Puerto Rico, and I must say, I love plantains! They seemed to accompany almost every meal we had in San Juan. The Puerto Ricans serve them many different ways — mashed with garlic, thinly sliced and crispy, and fried sweet plantains. All are tasty, but I particularly enjoyed the sweet ones.
We had some great meals in Old San Juan. Here are a few restaurants worth noting.
Barrachina
We had our first meal in Puerto Rico at Barrachina the evening we arrived. Barrachina claims to be home of the original piña colada, so naturally we ordered piña coladas all around. We also ordered a delicious appetizer sampler platter that included calamari, grouper fritters (my favorite!), corn fritters, mini beef empanadas, and stuffed plantains (some stuffed with chicken, some with shrimp, some with calamari). Boy oh boy was that a lot of food, but it was really good. Next time, I'd just order the appetizer sampler and skip the main entree. But we didn't do that this time, and our entrées included steak mofongo, grouper, and pineapple-ginger chicken. For dessert, we had tres leches. The coffee was also very good and reminded me of coffee in Italy — strong, thick, and creamy. The service at Barrachina was excellent. We had a friendly waiter who made the experience fun. He said there are no diets while on vacation in San Juan — just strong drinks, delicious food, and strong coffee (no decaf!). While this restaurant may be touristy, it was fun and tasty and definitely worth checking out.
El Jibarto
We stopped here for lunch between our two fort visits and really enjoyed our meal! El Jibarto is a casual restaurant and seems to offer authentic local food, which was really delicious and also inexpensive. I had oven-baked chicken with mashed cassava, and also tried the yucca fries and fried sweet plantains. Yum!
Cafeteria Mallorca
This restaurant's specialty is also it's namesake — the mallorca, which is basicially a pan-fried sandwich comprised of two slices of sweet bread stuffed with filling (I had ham and cheese) and topped with powdered sugar. The mallorcas were a fun local specialty to try and they were good, but honestly not totally amazing like I was anticipating. But people seem to love them, so maybe it's just me. I must say that the fresh squeezed orange juice I had there was absolutely delicious though. Cafeteria Mallorca is a good place for a quick, inexpensive breakfast and to try something a little different. Just be warned that it gets super crowded (we were there on a Saturday morning), so if you don't want to wait, you may want to go elsewhere.
Our two days in Old San Juan were a great kickstart to our cruise vacation. I'd love to go back in the future! There is much more to see and do than we had time for. Next time, I'd also check out the modern sections of San Juan and take a day trip to El Yunque rain forest.
Next up: How I spent one day in Tortola on our cruise
Save this post for later! Pin the image below: